Exploring the National Parks of Southern Ontario
Blog #2: Bruce Peninsula National Park & Fathom Five National Marine Park
Located at the tip of the Bruce Peninsula are Bruce Peninsula National Park and Fathom Five National Marine Park. These two parks boast spectacular scenery, diverse habitats and lots of activities to keep you busy.
Bruce Peninsula National Park
Established in 1987, Bruce Peninsula National Park is more than 150 square kilometres in size and features rugged cliffs, ancient forests, beaches, lakes, wetlands and rare limestone barrens.

An excellent network of trails, including more than 20 kilometres of Bruce Trail, takes you to many of these habitats. Gnarled, twisted cedars clinging to cliffs are part of an old growth forest where some trees are hundreds of years old! More than 40 species of orchids can be found in and around the park.

Besides excellent hiking opportunities, there are also areas to go swimming, canoeing and kayaking. Camping is available at the Cyprus Lake Campground.


One of my favourite hikes involves taking the Cyprus Lake Trail along with a short section of the Georgian Bay Trail and then the Marr Lake Trail to Boulder Beach. You can then take the Bruce Trail east along the rugged coast of Georgian Bay where you can see the popular Grotto and then a little further east the spectacular Indian Head Cove.

The Marr Lake Trail and this section of the Bruce Trail are difficult footpaths. If you want an easier walk close to where Indian Head Cove is take the Cyprus Lake Trail to the Georgian Bay Trail (both the Cyprus Lake Trail and Georgian Bay Trail are rated "easy").

Another popular spot in Bruce Peninsula National Park is Singing Sands in the Dorcas Bay area where a beach and trails await.

Park website: www.parkscanada.gc.ca/bruce
---
Fathom Five National Marine Park
Located next to Bruce Peninsula National Park is Fathom Five National Marine Park.

This park is home to the famous Flowerpot Island, but there is so much more to see at Canada's first National Marine Conservation Area that was also created in 1987.





"Fathom Five" consists of more than 20 islands in the waters of Lake Huron and Georgian Bay. There is also a land base which features a visitor centre and a 20-metre-high tower that provides impressive views of both Fathom Five and Bruce Peninsula National Park.

This land base also has the beautiful Burnt Point Loop trail, an approximately 4-kilometre long footpath that takes you to scenic lookouts on the shore of Georgian Bay.

Fathom Five is known for its numerous (more than 20) shipwrecks along with its boating and SCUBA diving opportunities. There is also camping on Flowerpot Island.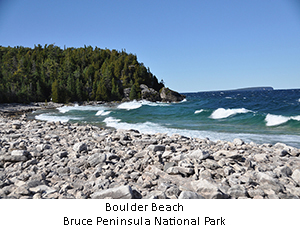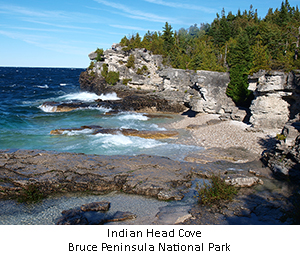 Park website: www.parkscanada.gc.ca/fathomfive
Click here to see a slideshow of full-size images from this page.
Photos © Lynn and Glenn Perrett
N. Glenn Perrett is a writer and environmentalist whose book Southern Ontario's National Parks has just been published by Fitzhenry & Whiteside.
Go to the Exploring the National Parks of Southern Ontario blog home page
Click here to post a response to this blog
Next Blog: Georgian Bay Islands National Park