Red Deer Press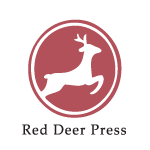 Red Deer Press, originally Red Deer College Press, started in 1971 as an in-house publisher of books written by college faculty and students. It was purchased by Fitzhenry & Whiteside in 2005.
Red Deer Press publishes upscale children's picture books, including illustrated children's Aboriginal titles, contemporary juvenile and young-adult fiction, science fiction, fantasy, drama, and general trade history and biography.
They produce creative and contemporary books by enlisting a balance of established and emerging authors and illustrators guided by a production team of expert editors, designers and production personnel. They enlist publishing talent from across Canada, publish to the national and international markets, and continually strive to creatively promote and market our books.
For more information on Red Deer Press visit the About Us page on the Red Deer Press web site.