Exploring the National Parks of Southern Ontario
Blog #6: Point Pelee National Park
By N. Glenn Perrett
Photos © Lynn and Glenn Perrett
One of our oldest, and smallest, national parks, Point Pelee National Park (PPNP) is located in Essex County in the southwestern part of the province. Point Pelee National Park is the most southern point of mainland in Canada while Middle Island, which is part of PPNP, is the southernmost point of land in Canada. Established in 1918, PPNP consists of a scenic V-shaped spit of land that extends approximately nine kilometres into the western basin of Lake Erie. The approximately 15-square-kilometre park is 4.5 kilometres wide at its northern base and consists of more than 400 hectares of dry land and more than 1000 hectares of freshwater marsh.
Situated in the Carolinian life zone of the St. Lawrence lowlands, PPNP features a moderate climate, a variety of habitats and an incredible biodiversity, including numerous at-risk species. The park was established, in part, due to its importance as a stopover area for migrating birds.

The importance of PPNP in protecting the environment and species is acknowledged with the various designations that the park has received. In 1987 PPNP was designated a Wetland of International Significance while in 1998 the park was designated an Important Bird Area. In 2006 Point Pelee National Park was designated a Dark-Sky Preserve. The park is also an International Butterfly Reserve. From late August through to mid-October monarch butterflies pass through PPNP on their incredible journey to Mexico – a trip of more than 4,000 kilometres!

There is lots to see and do in PPNP. Many visitors travel to PPNP for the exceptional bird watching opportunities in the park. More than 300 species of birds have lived in, or passed through, the park. Point Pelee National Park is one of the best places in North America to see the spring bird migration. Fall bird migrations are also impressive where songbirds appear in August while birds of prey appear in September and October. November is when you can find waterbirds in the park.
Hiking is another popular activity. There are numerous footpaths in the park that allow you to walk to the Tip and beaches as well visiting other habitats that include swamp forest and savannah. The approximately one-kilometre-long boardwalk trail takes you through parts of the park's beautiful marsh. And, if you enjoy human history, visit the DeLaurier Homestead and Trail.

oTENTik accommodations (a cross between a tent and a rustic cabin) are also available in PPNP. If you enjoy canoeing and kayaking you can access the marsh via the Thiessen Channel.

Park website: www.parkscanada.gc.ca/pelee

N. Glenn Perrett is a writer and environmentalist whose book Southern Ontario's National Parks has just been published by Fitzhenry & Whiteside.

Click here to post a response to this blog


Next blog: The Health Benefits of Nature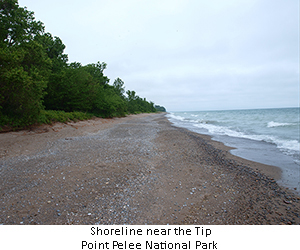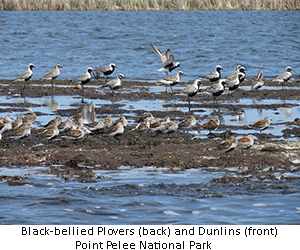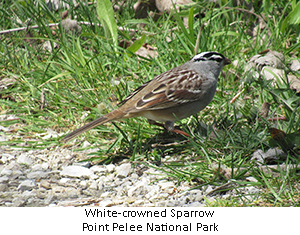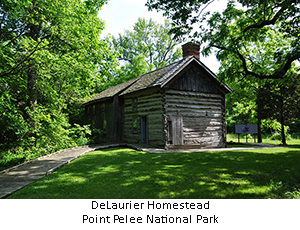 Click here to see a slideshow of full-size images from this page.
Go to the Exploring the National Parks of Southern Ontario blog home page