Exploring the National Parks of Southern Ontario
Blog #7: The Health Benefits of Nature
By N. Glenn Perrett
Photos © Lynn and Glenn Perrett
Spending time in nature is not only a pleasant experience, it is a healthy one too! Recent studies have attributed trees, nature and green spaces – including views of these – to many physical and psychological benefits. Mother Nature has been shown to help reduce stress and depression and increase our ability to concentrate. Nature also helps those with attention disorders. During a time when stress and mental illnesses are prevalent with children and young adults, experiencing nature can be a step in the right direction to improved health.

While nature helps with many mental health issues, it has also been shown to help with physical health as well. One of the more popular studies referred to regarding nature and physical healing is one by Roger S. Ulrich. This study pertains to patients in a Pennsylvania hospital who had surgery to remove their gallbladder and who recovered in one of two areas of the hospital. Some recovered in an area with a view of a forest while others recovered where they looked out onto bricks. Patients with the view of the forest had shorter hospital stays, used fewer moderate and strong medications and had fewer complaints compared to the patients who didn't view trees during their recovery.
The connection between nature and healing is not a recent discovery however. During the late 19th century doctors were prescribing time spent in nature with fresh air for patients suffering from respiratory illnesses such as tuberculosis. Established in 1897, the Muskoka Cottage Sanatorium was Canada's first tuberculosis sanatorium. One belief at this time was that the scent of evergreen trees was good for the lungs.

The belief that the scent of evergreen trees was good for you has been supported in recent years. Studies of the Japanese practice of "forest bathing" (Shinrin-yoku) has shown that a leisurely walk in the woods can lower blood pressure and decrease depression, anxiety, stress and anger. Evidence also indicates that forest bathing can help our immune system while fighting off cancer.

Along with various health issues, studies have shown that nature, including views of nature, can improve academic performance and behaviour of students and increase teachers' enthusiasm for teaching.
Not to be forgotten with nature's many health benefits is that it encourages exercise. Spending time in nature usually involves hiking, canoeing, bird watching and other forms of exercise which can help with health issues including helping to prevent heart disease, lower cholesterol levels, lower blood pressure and help with arthritis.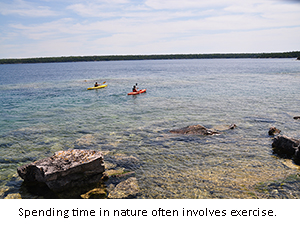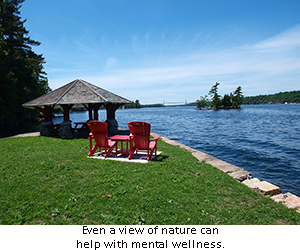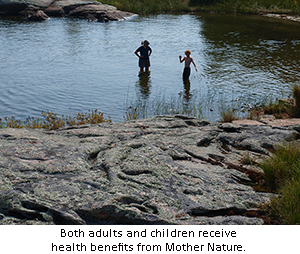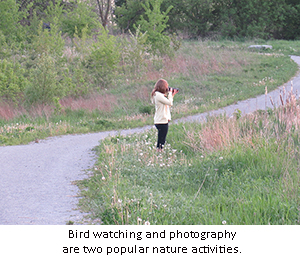 N. Glenn Perrett is a writer and environmentalist whose book Southern Ontario's National Parks has just been published by Fitzhenry & Whiteside.
Next Blog: Fall in the Parks
Click here to see a slideshow of full-size images from this page.
Go to the Exploring the National Parks of Southern Ontario blog home page