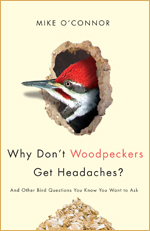 Why Don't Woodpeckers Get Headaches?
And Other Bird Questions You Know You Want to Ask
Author Mike O'Connor
ISBN 9781554550418
Binding Trade Paper
Publisher Fitzhenry & Whiteside
Publication Date May 28, 2007
Size 152 x 229 mm
A beginner's guide filled with wisdom and humour. In 1983, Mike O'Connor opened the Bird Watcher's General Store, which might well have been the first store devoted solely to birding in North America.
Read More