(Almost) Flourless Double Chocolate Torte
with Raspberry or Thimbleberry Elderflower Liqueur Coulis
Makes 10 servings
When I leave the Islands and fly south I take a tote full of fish and shellfish—salmon, smoked and not smoked, halibut, crab, scallops—vacuum-packed and frozen in one pound packages for my friends, and return with the same tote filled with specialty foods such as beeves palates, cheeses, bung gut and of course chocolate. On my last trip I bought a 5 -pound block of Callebaut cooking chocolate. (In case any chocolate addicts are reading this, I keep it locked in a vault in an undisclosed location nowhere near my land.) If you are a true fanatic you can order from the Chef Shop in Seattle a single-origin baking chocolate, including the famed Cru Sauvage from Bolivia. I'm tempted to fly to Bolivia to smuggle back a kilo or two, but now I am getting off topic.
FOR THE CAKE
8 oz (225 g) bittersweet chocolate
1 cup (240 mL) unsalted butter
1 cup (240 mL) superfine or caster sugar
5 large eggs
1 Tbsp (15 mL) vanilla extract
¼ tsp (1 mL) salt
¼ cup (60 mL) all purpose flour*
FOR THE MOUSSE
½ cup (120 mL) unsalted butter, cut into pieces
4 large eggs, separated
¼ cup (60 mL) whipping cream
1 Tbsp (15 mL) vanilla extract
8 oz (225 g) bittersweet chocolate, chopped
½ cup (120 mL) sugar
1 tsp (5 mL) sugar (or cocoa) for dusting
OPTIONAL
¾ cup (180 mL) for topping
handful of chocolate
---
*for a gluten-free version you can substitute ground almonds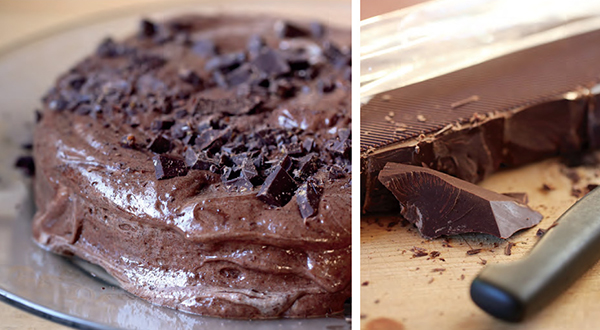 WHAT YOU DO FOR THE CAKE
Preheat over to 325°F (160°C).


Butter a 10 inch (25 cm) springform pan and dust with sugar, or even cocoa.


Melt chocolate and butter in a heavy large saucepan over low heat, stirring constantly.


Whisk in sugar.


Cool to lukewarm.


Whisk in eggs, one at a time, blending well after each addition.


Mix in vanilla and salt then fold in the flour.


Pour batter into pan.


Bake until cake just rises in center, about 35 minutes. Don't flip out, like I did one time, if a toothpick inserted into center does not come out clean: that one time I baked the cake 5 minutes longer and wished I had trusted my own instructions. How could I not have remembered—the cake goes on cooking in the pan?


Cool completely in pan on rack.


Cover; chill while making mousse.
WHAT YOU DO FOR THE MOUSSE
Melt butter in medium metal bowl set over saucepan of simmering water (do not allow bottom of bowl to touch water).


Whisk yolks, cream and vanilla in small bowl to blend.


Very gradually whisk the yolk mixture into the bowl with the melted butter.


Whisk constantly over simmering water until thermometer registers 150°F (66°C), about 6 minutes. The mixture may appear as if it has curdled, but it hasn't. Trust me. All will be well when you . . .


Remove bowl from over water; add chocolate and stir to melt. Set aside.


Beat egg whites and sugar in large bowl to form medium-stiff peaks. Whisk one-quarter of beaten egg white mixture into warm chocolate mixture, then fold in the remaining egg whites. Pour mousse over cake in pan; smooth top. Chill torte until mousse is set, at least 6 hours and up to 1 day.


Run a sharp knife around edge of pan to loosen torte. Release pan sides. Transfer torte to platter. You can optionally whip up cream until peaks form and spread this over the mousse, and then finish with a handful of chopped chocolate. I like to serve my torte with a splattering (or a dollop, take your pick) of Thimbleberry Elderflower Liqueur Coulis on the side. I have also served it with Crystallized Candied Rose Petals, which was another kind of treat.
---
Thimbleberry Elderflower Liqueur Coulis
Makes 2 cups (475 mL)
½ cup (120 mL) sugar
¼ cup (60 mL) water
2 ½ cups (600 mL) thimbleberries (fresh or frozen)
¼ cup (60 mL) Elderflower liqueur (optional)
WHAT YOU DO
Heat the sugar and water in a small saucepan over medium heat, stirring from time to time, until the sugar dissolves completely, about 5 minutes. Use a pastry brush dipped in water to brush down any sugar crystals on the side of the pan.

Add the thimbleberries and simmer another 5 minutes or until berries have softened and fallen apart.

Put the sugar and berry mixture in a blender or food processor and puree.

Strain through a fine mesh sieve to remove the seeds and stir in the elderflower liqueur, if using.

The sauce keeps well, tightly covered, in the refrigerator for a week and freezes perfectly for several months.
SUBSTITUTIONS
Raspberries, fresh or frozen.
---
Cake vs. Torte
The word "torte" comes from the Italian word "torta," which means a round bread or cake; in Europe, most cakes are called tortes. Some French tortes are called "gateau," which is French for cake, not torte, but anyway. . .
Traditional cakes are made with ingredients mainly consisting of sugar, eggs, butter and flour; the cake's lightness of being comes from of the low gluten content of cake flour, which is made from soft wheat.
A torte, however, calls for little to no flour and the use of ground nuts, such as almond meal, which adds density, through its oils, and nut flavour to the batter as it bakes. The torte is much heavier than the cake in both texture and taste.