Marty Chan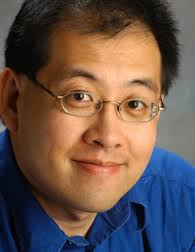 Marty Chan is an award winning author living in Edmonton, Alberta. He has written for television, radio, theatre, newspaper, and has published several children's and young adult books. Marty's TV shows and plays have been watched around the world, and he continues to write in the company of his wife and two cats, Buddy and Max.
For more information on Marty Chan and his books or work...
Click here to listen to an interview with Marty on Cabin Tales for Young Reader about his writing process.
Click to visit: www.martychan.com
Follow on Twitter: @Marty_Chan
Books by Marty Chan:
Sort By
Metamorphosis

$12.95

ISBN: 9781554553921 Binding: Trade Paper Publisher: Fitzhenry & Whiteside Publication Date: 2019-08-08

Infinity Coil

$12.95

ISBN: 9781554553457 Binding: Trade Paper Publisher: Fitzhenry & Whiteside Publication Date: 2015-01-29

Demon Gate

$12.95

ISBN: 9781554553068 Binding: Trade Paper Publisher: Fitzhenry & Whiteside Publication Date: 2013-10-04