Christine Tizzard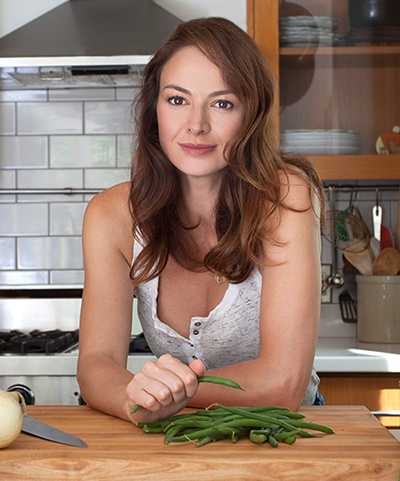 This Newfoundland native and mother of two has been passionate about food, film, fashion and television for as long as she can remember.
She was scouted in a mall fashion show at the age of 15 and, soon after being 'discovered', Christine began modeling for beauty campaigns around the world. Building on her modeling career, she then honed her talents as a trained actor for both film and television and has appeared on-screen in high-profile productions for networks like HBO and ABC Family.
No matter where her adventures in front of the camera would take her, though, her obsession for food and healthy eating was always there. She never forgot her love of cooking at an early age and she longed to return to those culinary roots. She rekindled her love for cooking by enrolling in the Chef Training program at George Brown College in Toronto.
Christine's culinary accomplishments include: regular guest chef appearances on daytime TV shows like Rogers' Cityline, CTV's Marilyn Dennis, and CBC's Steven and Chris. She was thrilled to join CBC Television and Canada's most popular daily food show, BEST RECIPES EVER, as its new host where she got to choose her favorite dishes from Canadian Living's renowned Tested-Till-Perfect recipe library and bring them to life every day for Canadians coast-to-coast.
Christine is most at home in her kitchen crafting homemade artisanal goods, however, you can find her about town in various culinary media events. Whether she is doing a food demo at a trade show or teaching a cooking class, her down home personality mixed with culinary technique, makes cooking look easy. So it is no surprise that Christine will be taking you into her home and kitchen in a new YouTube cooking channel being launched in the next coming month.
Christine's down-to-earth and vivacious personality is contagious. She believes in looking and feeling good and is always eager to share her enthusiasm for great food and good living with others.
Christine Tizzard lives in Toronto with her two children.
Click here to see a clip of Christine on Global News preparing a kid-friendly quinoa tabbouleh salad with blueberries.
Check out Christine's social media:
Web Site christinetizzard.com
Facebook www.facebook.com/cheftizzard
Twitter twitter.com/ChefTizzard
Instagram www.instagram.com/christinetizzard
Christine's books
Sort By