Gabby's Activity Page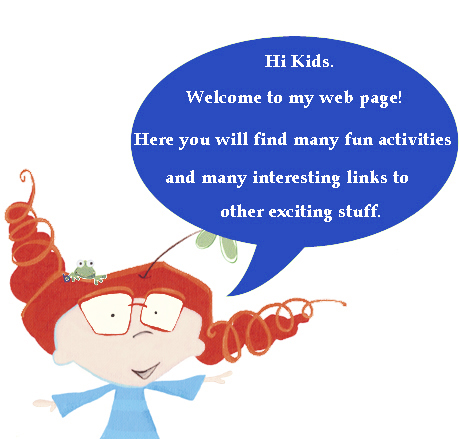 Colouring Pages
Gabby and her friends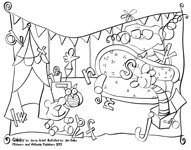 Letters littered her whole playroom.
---
The Queen's Crown Game
The Queen's Crown – a game to play alone or with friends.
Help Queen Gabriella find her crown!
Print the game board and play.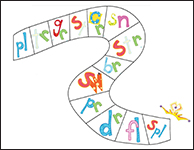 Find something like a coin or a button to use as a place marker.

On your turn, flip a coin. If it lands on "heads," move your marker one space. If it lands on "tails," move two spaces.

Say the consonant blend out loud and say a word that begins with that sound.

Count the number of turns it took for you to reach the crown.

---
Gabby's Book Plates
Below are 2 Book Plates and a Gift Plate
Book Plates can be attached to the inside of a book
and you write your name on the plate to say the book belongs to you.
A Gift Plate is attached to a gift or present for someone.
You put the name of the person the gift is for
and the name of the person the gift is from.
The Plates are set up to be printed on a regular
piece of paper with 6 plates on a page.
Print the page and cut out the 6 plates.
---
Below are the 3 books about me. Be sure to read them all
Gabby
Hard Cover books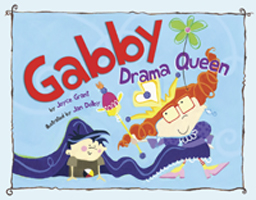 ---
Links to Other Exciting Pages
In this exclusive interview with Gabby, Joyce finds out what makes the quirky character tick.
http://joycegrantauthor.com/?p=173

Debbie Ohi, illustrator of I'm Bored!, chatted with Joyce about Gabby.
http://inkygirl.com/inkygirl-main/2013/1/23/interview-joyce-grant-on-gabby-picture-book-writing-editing.html

Author Joyce Grant and illustrator Jan Dolby talk about how they created Gabby: Drama Queen.
http://joycegrantauthor.com/?p=416

Tips on raising a reader, by Joyce Grant (49th Shelf blog)
http://49thshelf.com/Blog/2013/01/24/Family-Literacy-Day-Joyce-Grant-s-Tips-on-Raising-a-Reader-Guest-Post

Useful Gabby links:
Joyce Grant's author website
www.joycegrantauthor.com

Illustrator Jan Dolby's website
www.jandolby.blogspot.com

Gabby's Facebook page
www.facebook.com/gabbypicturebook

Joyce Grant on Twitter
@JGCanada

Jan Dolby on Twitter
@jandolby