Hugh Dempsey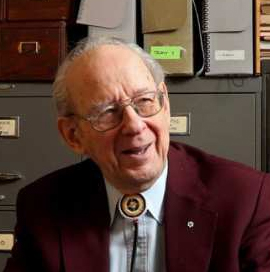 Hugh Aylmer Dempsey is a Canadian historian, author and the Chief Curator Emeritus of the Glenbow Museum in Calgary, Alberta. Dempsey has authored more than 20 books, focusing primarily on the history of people of the Blackfoot Confederacy. He received an honorary doctorate from the University of Calgary and was made an honorary chief of the Kainai Blackfoot in 1967. For his contributions to the study of the Plains Indians, Dempsey was awarded membership in the Order of Canada in 1975.
In 2016 the Canadian Historical Association awarded Hugh their Lifetime Achievement Award.
Dempsey worked as a journalist for the Edmonton Bulletin newspaper from 1948 to 1951 and then became a publicity writer for the Alberta Government from 1951 to 1956. In 1956, Dempsey was vice-president of the Edmonton-based Historical Society of Alberta and associate editor of the Alberta Historical Review, when he moved to Calgary to become archivist of the recently established Glenbow Museum. From 1956 until 1967, he worked as an archivist, and was a curator/director from 1967 to 1991. On his retirement Dempsey was made Chief Curator Emeritus.
Dempsey authored numerous articles and books, such as Crowfoot, Chief of the Blackfeet (1973), The Gentle Persuader: A Biography of James Gladstone, Indian Senator (1986), and Red Crow: Warrior Chief (1978), which focus on the culture and history of the First Nation peoples of Alberta. Dempsey's writing benefited not only from his work as an archivist but also from his access to the Blackfoot community through his marriage. Dempsey is credited with combining the oral history of native peoples with scholarly records to produce historical writing with a broad popular appeal.
Dempsey became editor of the Alberta Historical Review in 1958. From 1963 to 1967, Dempsey was also editor of the newsletter The Canadian Archivist which later became the journal of the Archives Section of the Canadian Historical Association. He also lectured on native studies and Alberta history at the University of Calgary. Dempsey was born in Edgerton, Alberta in 1929. In 1953 he married Pauline Gladstone, the daughter of Canadian Senator James Gladstone of the Kainai Blackfoot, with whom he had five children. In 1951 Dempsey began more than 40 years of correspondence and friendship with American ethnohistorian John Canfield Ewers when the two met while doing field research on the Blackfoot reservation in Montana.