IBBY'S From Sea to Sea to Sea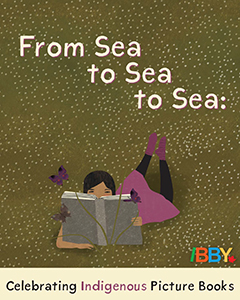 IBBY Canada have published an Indigenous Picture Book Collection From Sea to Sea to Sea, a catalogue of 100 recommended Indigenous picture books. 28 of the books are available from our website, published by our subsidiary company with a native focus
Fifth House Publishers
or by one of the following publishers we distribute:
Inhabit Media Inc.
Lee & Low Books
Pemmican Publications
Tradewind Books Ltd.
IBBY Canada is a non-profit organization committed to bringing books and children together as a way to foster understanding and friendship between children of different cultures. We believe that children's literature can bring about positive change.
Founded in 1980, IBBY Canada is one of 75 National Sections of the International Board on Books for Young People.
The collection of books in From Sea to Sea to Sea: Celebrating Indigenous Picture Books was initiated in 2016 in response to the Truth and Reconciliation Commission's Calls to Action and in keeping with IBBY Canada's mission to support the right of every child to become a reader through access to high-quality books. All children should be able to walk into a library, classroom, or bookstore and see themselves and their lives reflected. Unfortunately, that is still not the case for many Indigenous children and youth across Canada. We hope that From Sea to Sea to Sea will promote the reading and sharing of books by Indigenous authors among Indigenous and non-Indigenous children and youth, their families, librarians, educators, and community members.
From board books to picture books for older readers, this collection is a selection of 100 of the best books by Indigenous authors, many illustrated by Indigenous artists, published in Canada and currently in print. The titles reflect the diverse First Nations, Métis, and Inuit cultures, languages, perspectives, and experiences from sea to sea to sea. Attention was given to including picture books that promote and support Indigenous languages. All titles reflect authentic First Nations, Métis, and Inuit voices and offer insight into their distinct histories and current realities of these communities.
Note that over 28 books are listed below. The 28 books are available in various languages, and print formats.
From Sea to Sea to Sea books
Sort By