Adam Hynam-Smith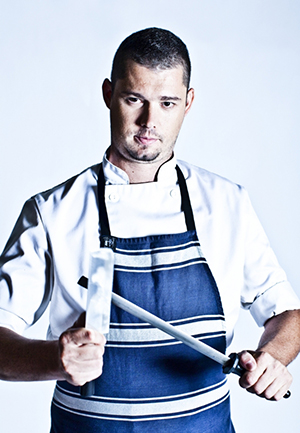 Adam Hynam-Smith is Executive Chef and Co-owner of El Gastronomo Vagabundo, Ontario's first gourmet street food truck, featured on Food Network Canada's Eat St., Hynam-Smith has a reputation for reshaping the standard for street food cuisine in Ontario. According to Acquired Taste Magazine, "what Momofuku master chef David Chang is to New York, El Gastronomo Vagabundo is to Toronto's food truck culture." Hynam-Smith is co-host of Food Network Canada's Restaurant Takeover.
Raised in Central Victoria, Australia, Hynam‐Smith moved to Melbourne to train under some of the best chefs in Australia, including Cath Claringbold and Jacques Reymond. Since embarking on his world travels in 2006, Adam has studied and cooked in Morocco, France, England, Thailand, and now, Canada.
Hynam-Smith's gourmet food truck has been awarded with Best Concept, Best Menu Item, and Road Warrior awards at the AwesTRUCK Food Truck Awards in Toronto, Canada. The unique and bold flavours of Hynam-Smith's signature street food continues to lead and inspire a surging population of new gourmet food truck owners across Ontario.
Adam is a passionate believer in knowing where his food comes from and the people behind the food, and chooses his suppliers very carefully and on a personal level. Hynam‐Smith's extensive travel and work experience allows him to draw on the culture and traditions of the food he cooks while putting a personal and modern spin on the cuisine. Adam's food always comes back to what he was taught as a boy: whether at home, in a restaurant, or on the street, food should be shared and enjoyed in an inspired setting with good company.
Books by Adam Hynam-Smith
Sort By