Celia Godkin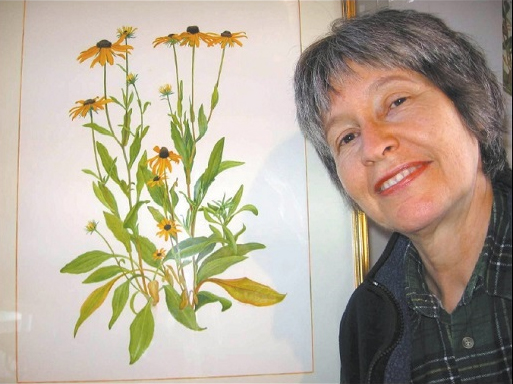 Born 1948 in London, England, Celia moved with her family to Brazil when she was two years old. In 1960 they returned to England for her high school and undergraduate years. She received a Bachelor's in zoology from London University and then emigrated to Canada.
After several years working as a biologist Celia decided to go back to school to train as a scientific illustrator. She completed the diploma course at the Ontario College of Art and an illustrated Master's thesis in zoology at the University of Toronto, and began work as a freelance artist, illustrating textbooks and scientific papers.
A contract to illustrate signage at the Assiniboine Park Zoo, Winnipeg, led to collaboration with Zoo Director, Clive Roots, on Endangered Species: Canada's Disappearing Wildlife, a trade book published by Fitzhenry & Whiteside in 1987 (now out of print). Encouraged by this success, she illustrated a story she'd written many years earlier and showed it to her publisher. The resulting book, Wolf Island, won the 1990 Children's Literature Roundtables of Canada Best Information Book Award and launched her career as a respected author/illustrator of children's creative non-fiction.
To supplement the feast and famine cycle of freelance work, Celia taught adult art classes, first for the Royal Ontario Museum and later for the School of Continuing Studies at the University of Toronto. In 1987 she was hired to teach scientific illustration in the Department of Art as Applied to Medicine, now the Division of Biomedical Communications, where she attained the rank of Associate Professor. She is the recipient of two teaching awards from the University of Toronto.
Of the many studio arts courses taught by Celia, those in botanical art proved the most popular. These courses, and those of her mentor, Pamela Stagg, were instrumental in bringing together a group of students who banded together in 2001 to form the Botanical Artists of Canada. Celia is a founding member and was Newsletter Editor from 2007 – 2012. She is also a member of the Ottawa Society of Botanical Artists, the Southern Ontario Nature and Science Illustrators, the Writers' Union of Canada, the Canadian Society of Children's Authors, Illustrators and Performers and the Canadian Children's Book Centre.
In 2004, after many years of living in Toronto, Celia and her husband, O. John Hawkins, moved to Eastern Ontario. Here she continues working on books and - a new line of work - designing coins for the Royal Canadian Mint.
Click here to go to Celia's web site www.celiagodkin.com.