Dawn Green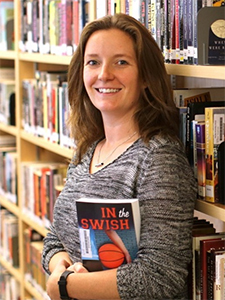 Dawn Green is an author of young adult fiction. As a lover of all things books, she can usually be found wandering around a local bookstore or reading in a cozy corner. When not stuck to her computer keyboard or lost in the pages of a story Dawn spends her time teaching high school English/Spanish and on the hardwood coaching basketball.
Dawn Green graduated from the University of Victoria with degrees in languages and education. She is a high school Spanish and English teacher, basketball coach, and volunteers with Special Olympics BC.
Dawn lives in Victoria, BC.
Click here to read an interview by Open Book with Dawn as part of their In Character Interview series. The interview is about character development in the book In the Swish.

Website: www.dawngreenbooks.weebly.com
Twitter: @GreenDawn or www.twitter.com/greendawn
Instagram: @green_write_life or www.instagram.com/green_write_life
Goodreads: www.goodreads.com/author/show/8062229.Dawn_Green