Ingrid Ruthig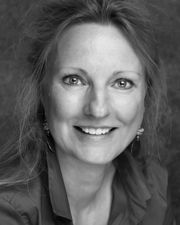 Ingrid is a Canadian writer, poet, editor, visual artist, and once-practising architect. She is the author of This Being (Fitzhenry & Whiteside, 2016), which won the League of Canadian Poets 2017 Gerald Lampert Memorial Award for best debut book of poetry by a Canadian, and was named on CBC's "Ultimate Canadian Poetry List" in 2018.
Her writing has appeared widely, in such publications as Am, Be: The Poetry of Wayne Clifford, The Best Canadian Poetry, Books in Canada, National Post, CNQ, and numerous literary journals and anthologies across Canada and abroad.
Her poetry won an 2005 International Petra Kenney Poetry Prize, the Eden Mills Writers' Festival Literary Competition, and has been featured by the Canadian Parliamentary Poet Laureate, while her award-winning, text-based visual works have been shown in galleries and public spaces.
Ruthig's books also include Slipstream (poem sequence/artist's book, 2011), Synesthete II (chapbook, 2005), and (as editor) David Helwig: Essays on His Works (2018), The Essential Anne Wilkinson (2014), and Richard Outram: Essays on His Works (2011).
A 2018 Hawthornden Fellow, she lives with her family near Toronto.
Visit her web site at ingridruthig.com.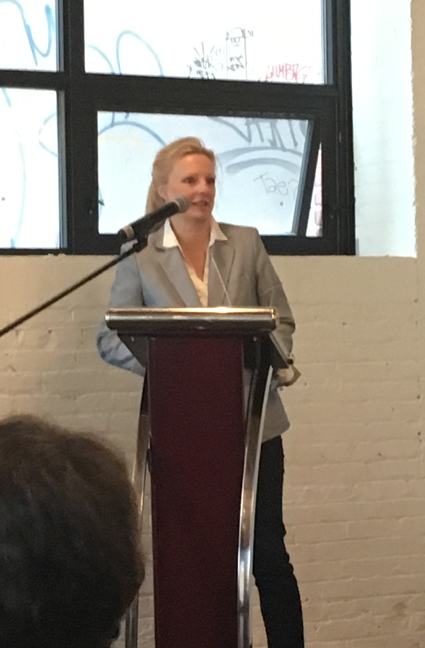 Ingrid accepting the Gerald Lampert Memorial Award
---
An interview with Ingrid on winning the Gerald Lampert Memorial Award
Congratulations, Ingrid. What was your initial reaction on hearing that your first collection of poetry, This Being, was awarded the League of Canadian Poets' Gerald Lampert Memorial Award?
I punched the air and whoohoo'd! And I knew for a fact, then, that patience can pay off.
You worked many years as an architect and have written a fair deal of criticism. How has this affected your writing of poems?
It is all related, I suppose, but it's not easy to measure or describe – it's a way of thinking, of approaching the task at hand, which is to order and resolve something that is, at first glance or in a sense, chaotic. By inclination and training, I'm used to connecting dots – I notice things on a number of levels and begin to sort, align, or discard them, paying as much attention to detail as context. Then I set out in one direction, following clues, trying to keep sight of the big picture or the intended plan, hoping I will arrive at some kind of resolution. Sooner or later the creative process takes over, and I have to give in to it. Without that willingness to relinquish a measure of control, there would be no discovery. And it's at this stage that writing poems veers away from kinship with raising a building off paper and up out of the ground. In architecture, surprises are usually costly and unhappy ones!
The opening poem in the collection is "Ten Mile Point", which starts at a stop on a journey – Manitoulin Island – with car doors flung open and "water far as you can see." But as you turn the reader back to land, with its gift shop and model tepee and our commercialized habits we're led to something gently epiphanous, that we are somehow standing at a brink. Why did you choose this poem to start the collection? (Click here to see the poem Ten Mile Point.)
Although the poem was written much earlier than others in the collection, it seems even more timely now. It's a recognition of the most important moment – always and ever the present moment, because we can't go back and change what has passed, and the future is impossible to grasp. So, here we are, teetering on the edge of a precipice, surrounded by all this apparently endless beauty which also sustains us, but rather than pay attention, we let ourselves be distracted by the shiny stuff. The land's continuance, and ours as well, hinges on the choices we make from here on in, individually and collectively. This piece set the right tone for what follows – an invitation to the reader to look around and see where we're standing at this moment in time. To see how we change, and can change. Hopefully in time.
In terms of change and its possibilities, what can you tell us about the title, This Being?
A title, in my view, is like a key that unlocks the door of the book. This one rose slowly to the surface and insisted on staying put. Those two words brought together weave a mystery, and the meaning remains fluid. While it points at humans as beings, it also points to the act of being, of understanding we're only able to exist in the present, and there's no living in the past or future. So much about us, about our habits, doesn't change. Nevertheless we remain fluid as we move from moment to moment. In fact, we're always changing. And in those small, sometimes imperceptible alterations lies the possibility that we might yet become something better.
Is that the ultimate goal of poetry, to help us become something better?
W.H. Auden, who is quoted excessively from his tribute poem to Yeats, wrote, "poetry makes nothing happen." Of those who read poetry, many, including me, will disagree – it can strike a chord and resonate long after the book is closed; it reveals things we've become blind to; it settles or unsettles by mirroring shared human experience; it stirs thought and emotion. It changes the reader. If we look again at Auden's poem, it goes on to say "it survives, / A way of happening, a mouth." Maybe that's as close to an answer as any. A poem offers a different way of being. It's an open mouth providing a way to speak and the words for what's next to impossible to say, even if it's only a trace of what we really mean. Yet, we keep trying.
Thank you, Ingrid.
This Being : poems

$15.00

ISBN: 9781554554027 Binding: Trade Paper Publisher: Fitzhenry & Whiteside Publication Date: 2016-03-28