Susan Ouriou
S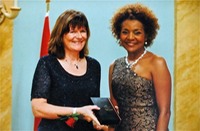 usan is an award-winning literary translator who has translated the fiction of Quebec, Latin-American, French and Spanish authors.
She won Canada's Governor General's Literary Award for Translation in 2009 for Pieces of Me by Charlotte Gingras, after first being shortlisted for The Road to Chlifa by Michèle Marineau and then for Necessary Betrayals by Guillaume Vigneault. The Road to Chlifa was also awarded an honour list placing by IBBY (International Board of Books for Youth) as were Naomi and Mrs. Lumbago by Gilles Tibo, This Side of the Sky by Marie-Francine Hébert and Pieces of Me. Necessary Betrayals was also voted one of the 100 best books of 2002 by the Globe and Mail. Another translation, The Thirteenth Summer by José Luis Olaizola, was runner-up for the John Glassco Translation Prize.
She has worked as the director of the Banff International Literary Translation Centre and as faculty for the Banff Centre's Aboriginal Emerging Writers residency. She is the editor of the 2010 anthology Beyond Words - Translating the World.
Visit Susan's web site at www.susanouriou.com.
Nathan

$13.95

ISBN: 9780889955479 Binding: Trade Paper Publisher: Red Deer Press Inc Publication Date: 2016-09-13