Anne Innis Dagg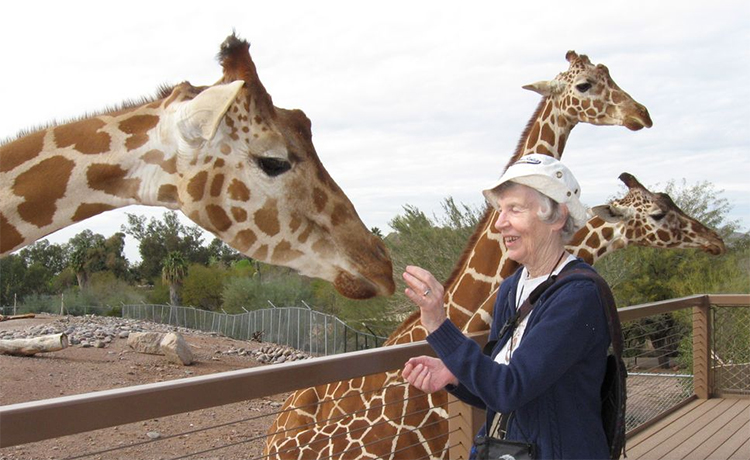 Anne Innis Dagg is a Toronto-born Canadian zoologist, biologist, feminist, and author of numerous books. She has been referred to as "the Jane Goodall of giraffes" and has made a "significant contribution to giraffes worldwide in an unprecedented way." Dagg traveled to Africa in the mid-1950s to study giraffes out of captivity, making her not only the first scientist to study giraffes in the wild, but also the first person to study animal behaviour in the wild in Africa.
On returning to Canada, she earned a PhD at the University of Waterloo, analyzing and comparing the gaits of giraffe and other large mammals. At the time this university did not hire women in the biology department, so she worked in a program where students did the hiring.
Today she works in Independent Studies, an evolution of that Program. Her research produced over 60 refereed scientific papers on such subjects as homosexuality, behavior of mammals, sociobiology, feminism, sexism at universities, and the rights of animals. She has also written 20 books and over 100 articles on these topics.
A motion picture is being produced on Anne's life called Smitten By Giraffes: The Anne Innis Dagg Adventure by Free Spirit Films.
Click here to listen to Wild Journey: The Anne Innis Story on CBC Radio's Ideas program that focuses on Anne's first trip to Africa in 1956.
Anne is the recipient of Planet in Focus' 2018 Canadian Eco-Hero award! Anne was honoured at the October 18th, 2018 screening of the film The Woman Who Loves Giraffes at the 19th Environmental Film Festival in Toronto.
Visit Anne's website at www.annedagg.net.
5 Giraffes

$24.95

ISBN: 9781554553563 Binding: Trade Cloth Publisher: Fitzhenry & Whiteside Publication Date: 2016-10-21