Deborah Ellis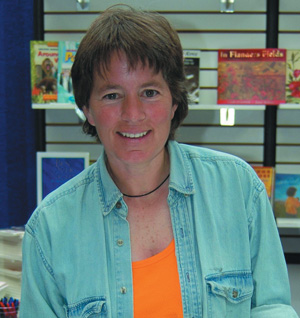 Deborah Ellis is one of North America's most popular writers of middle-grade and YA fiction. Most of the royalties from her books are donated to organizations, such as Women for Women in Afghanistan and UNICEF.
Q Looking back, would you change anything about your childhood?
A I'd take more risks, be braver, make an effort to get to know more people, especially other loners, and recognize how much power I have to make someone's day better.
Q What motivates you as a social activist?
A Hope. Fear. Anger. Faith. Hope. Humour.
Q What was your first act of activism?
A I showed films of nuclear war in my high school.
Q Your recent works cover war, AIDS and injustice. What draws you to these topics?
A I'm interested in how people deal with courage, particularly when they have no resources to fall back on but themselves.
Q What is your message to your readers about making choices and staying true to who they are?
A That we ARE making choices, even when we think we're not, with what we buy, what we believe, how we spend our time. There's a lot we can't control, but we can control our choices. Make them deliberately. Make them with thought and with courage.
Q Do you seek writing advice from others?
A I get advice from people who have gone before me, writers and activists. I learn from their victories and their mistakes.
Q What would you say to an aspiring writer?
A Don't quit. Pay your bills. And don't take yourself too seriously. There are much harder jobs in the world.
Q What do you want to accomplish?
A I want to work hard, do my best, fall in love, cook a meal that won't kill anyone.
Q What are you thankful for?
A I'm thankful for being a woman born in Canada at this point in history; for books; for people throughout history who have valued books.
Q Where do you do most of your writing?
A In doughnut shops.