Ian Stirling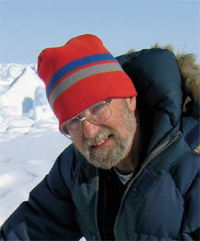 Dr. Ian Stirling is an Adjunct Professor in the Department of Biological Sciences at the University of Alberta. He holds a B.S. and M.S. from the University of British Columbia in Vancouver and a Ph.D. from the University of Canterbury in Christchurch, New Zealand, where he studied the population ecology of Weddell seals in Antarctica.
He has studied polar bears throughout the Canadian Arctic for over 37 years with the Canadian Wildlife Service. His long-term studies of polar bears in Western Hudson Bay, one of the world's most southerly populations, confirmed the negative effects of climate warming. The population has dropped 22% since 1987. Dr. Stirling has also studied the bears of the Southern Beaufort Sea and Canadian High Arctic for several decades as well their interrelationships with seals and sea ice.
He is the author of four books for the public on bears, including Polar Bears: The Natural History of a Threatened Species, considered the definitive work on the biology of the polar bear.
Stirling was the first Canadian to be elected president of the Society for Marine Mammalogy.
Books by Ian Stirling:
Sort By