Ed Struzik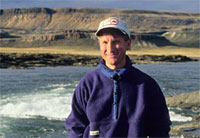 Ed Struzik is an author and journalist, living in Edmonton, Alberta with his wife and two children. He has written and contributed to many Canadian Geographic articles since 1981, as well as newspapers and magazines including Geo and the Toronto Star. Ed has spent much of his time focusing on the Arctic, and has travelled there several times in the past few years.
His book, The Big Thaw: Travels in the Melting North, focuses on the effects of global warming in the arctic, and Arctic Icons: How the Town of Churchill Learned to Love its Polar Bears, Ed's most recent publication, speaks to the efforts made to live harmoniously with Polar Bears in Manitoba.
For more information on Ed Struzik and his books or work...
Click to visit http://e360.yale.edu/author/Ed_Struzik/17/
Follow Ed on Twitter @Kujjua